About Us
With more than 35 years of experience, Dr. Lauer focuses on diagnosis, disease prevention, and treatment of both acute and chronic illness. As a small solo private practice, patients will only see one doctor in our office, allowing a more personalized relationship with our patients. We strive to deliver quality care in a timely manner. We try to develop a partnership with our patients and involve them in the decision making of their treatment, giving them options rather than just ordering them to follow a one- sided regimen. We are open minded and attempt to be flexible without compromising high quality patient care. To learn more about Consensus Health, visit www.consensushealth.com.
Our Providers
Dr. Lauer is Board Certified in internal Medicine, as well as Addiction Medicine and is the Medical Director of Burlington Comprehensive Counseling, an outpatient opiate treatment facility. He is a member of the American College of Physicians, American Society of Internal Medicine, and the American Society of Addiction Medicine. In addition, Dr. Lauer is an instrument rated private pilot and volunteer with the Civil Air Patrol as a Transport Mission Pilot with Civil Air Patrol flying cadet orientation flights.
Marshall Lauer, MD, DABIM, DABAM
| | |
| --- | --- |
| Specialty: | Internal Medicine, Addiction Medicine, Geriatric Medicine |
| Gender: | Male |
| Languages: | English and Spanish |
| Undergraduate Degree: | Villanova University |
| Medical School: | Universidad Autonoma de Guadalajara |
| Residency: | Cooper University Health System |
| Administrative Appointments: | Medical Director, Outpatient Drug Treatment Center |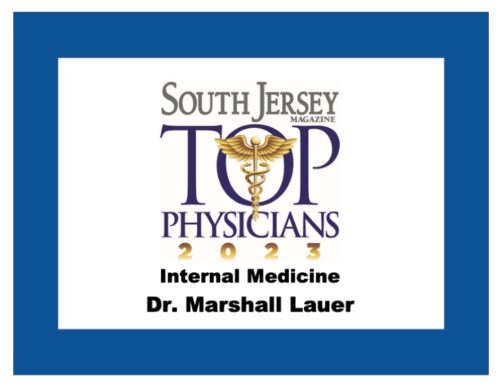 Services
Dr. Lauer is committed to the health and well-being of all patients. He focuses on preventative medicine and effective management of chronic diseases including:
Addiction Medicine
Anemia and Iron Deficiency Screening
Care Coordination for Complex Conditions and Procedures
Cholesterol Screening
Diabetes Screening and Counseling
Electrocardiogram (EKG)
Geriatric Medicine
Herpes Simplex Screening
Influenza Treatment
Liver Function Test
Prostate Cancer Screening
Sexually Transmitted Infections Screening
Smoking Cessation Counseling
Thyroid Screening
Upper Respiratory Infection Treatment
Wellness Examination
Pulmonary Function Testing (PFT)
Bladder Scan (Ultrasound)
Location & Contact Info
Remember to call us first when you need care. Even if our office is closed, someone from our team is on call to assist you. As your primary care provider, we are responsible for coordinating your care and making sure that specialists, hospitals and other providers are working together on your behalf. For any life-threatening emergency, always call 911.
Marshall Lauer, MD
414 Haddon Avenue
Collingswood, NJ 08108-1330
Phone: (856) 854-7800
Fax: (856) 854-1687
| | |
| --- | --- |
| Monday: | 9:00 AM - 5:00 PM |
| Tuesday: | 9:00 AM - 5:00 PM |
| Wednesday: | 9:00 AM - 5:00 PM |
| Thursday: | 9:00 AM - 5:00 PM |
| | |
| --- | --- |
| Friday: | 9:00 AM - 1:00 PM |
| Saturday: | Closed |
| Sunday: | Closed |
Marshall Lauer, MD
414 Haddon Avenue, Collingswood, NJ, USA